Executive Portraits (a.k.a. Environmental or Corporate Portraits)
Posed portraits of professionals in their work environment and/or doing what they do. Clients have used these for magazines and web sites. I usually arrive an hour early and together with the client scout out a few locations with architectural interest. Then I light the chosen area, take a few photos using a stand-in and am ready to shoot the subject.
Business Portraits (a.k.a. Headshots)
Posed portraits taken against a plain background - inside or out. Clients have used these for speaker lists, book covers, programs, press kits, web sites, social media etc. I've made them inside against paper and cloth backdrops hanging from stands, plain walls and even a painting. Outside I've taken them against fields, stone buildings, trees and the sky. The later require less time and expense but are fair weather-dependent.
Group Portraits
These I shoot in your space and usually from atop a ladder, staircase or balcony. But, I also have a 10x24' gray cloth background we can use. And yes, I can add people that were not in the original photo.
Editorial
These are images that illustrate a story and are used in (news)magazines, newspapers and grant applications. Strict application includes images made to the ethical standards to which the media is held - also known as photojournalism, documentary and reportage - with little or no interruption to the subject. I joke that I've "been to jail" 6 times - all for editorial assignments. Liberal application includes images made simply in the style of the photography that appears in these media.
Advertising
Images that brand or sell a service or product. These require advance planning. I have rearranged furniture, made fake blood, stuck bubble gum to shoes, worn clean room "bunny suits," set off flashes a block away, stood on 20' ladders, nearly fallen out of a plane, nearly fallen off a refinery fuel tank, worked after closing until the wee hours of the morning and spent weeks compositing images.
Events
Corporate or private events. I am as comfortable moving about a full auditorium to photograph the best angle of a speaker gesturing at a podium as I am moving through a cocktail hour to get paparazzi photos of all the guests. There will be no name tags, exit signs, drinks or chewing in the photos if I can manage it.
Public Relations (PR)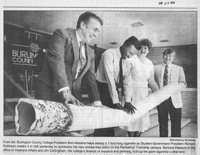 Images of events and photo ops made in the editorial style for immediate use in reputation and crisis communications for employees, customers, investors, media, voters and the public by means of local, state and national media outlets including blogs, intranets, web sites and social media. Having had news clients for nearly 2 decades, I have edited all-day photo shoots, written captions and embedded them in metadata, and prepped and transmitted images taken at the same location. I'll leave you with this tip: make it photographically memorable. I made this photo in 1990 and have never forgotten it.
Click here to enlarge it
.
Artists
From the petite to the perpetual - some of the most challenging photography I've ever done. I have photographed tiny claps on jewelry, paintings under glass, 2-story kinetic sculptures in spotty sun; lit sculptures in water on a moonlight night and composited images of 3,700 3" tiles affixed to a curved wall in a library into a single, straight image.
Food
From the planet to your plate - images for editorial, packaging or advertising use. I've photographed farmer's and fish markets, ingredients and prepared dishes, and chefs and restaurants innumerable times for clients including The Times of Trenton, the Star-Ledger and Edible Jersey magazine.